Mahindra's Auto Sector Sells 35,716 vehicles during June 2017
Mumbai, July 1, 2017: Mahindra & Mahindra Ltd. (M&M Ltd.), India's leading SUV manufacturer, today announced its auto sales performance for June 2017 which stood at 35,716 vehicles, compared to 39,009 vehicles during June 2016.
The Passenger Vehicles segment (which includes UVs, Cars and Vans) sold 16,170 vehicles in June 2017 as against 17,070 vehicles during June 2016. The company's domestic sales stood at 33,861 vehicles during June 2017, as against 34,989 vehicles during June 2016. In June 2017, the Medium and Heavy Commercial Vehicles segment sold 700 vehicles. Exports for June 2017 stood at 1,855 vehicles.
Commenting on the performance, Rajan Wadhera, President, Automotive Sector, M&M Ltd. said, "At Mahindra's Auto Division, while our domestic sales for June registered a de-growth of 3%, for the first quarter we grew by 1%. Our CVs grew by 17% in the first quarter and 12% in June 2017. Additionally the MHCV segment also registered a growth of 35% during the month. Our focus has been to minimise channel stocks to reduce the transition losses, on account of GST implementation. We are closely observing GST and strongly believe that once we tide over the initial uncertainties, GST is set to usher in a new era for the economy in general and the automotive industry in particular. Going forward, we expect that our wide product portfolio will drive our growth".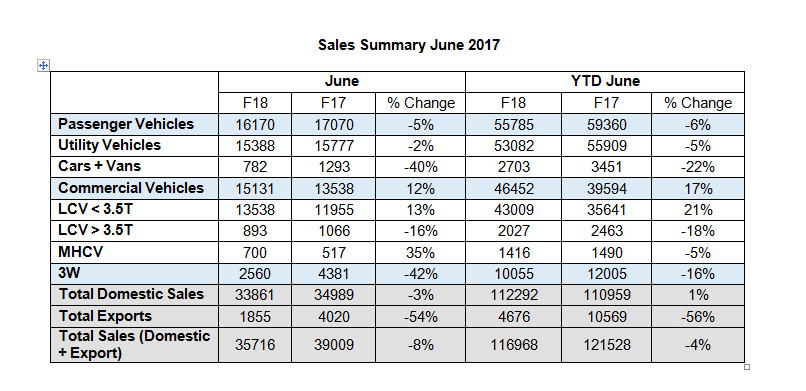 About Mahindra
The Mahindra Group is a USD 19 billion federation of companies that enables people to rise through innovative mobility solutions, driving rural prosperity, enhancing urban living, nurturing new businesses and fostering communities. It has a leadership position in utility vehicles, information technology, financial services and vacation ownership in India and is the world's largest tractor company, by volume. It also enjoys a strong presence in agribusiness, components, commercial vehicles, consulting services, energy, industrial equipment, logistics, real estate, steel, aerospace, defence and two wheelers. Headquartered in India, Mahindra employs over 200,000 people across 100 countries.
Learn more about Mahindra on www.mahindra.com / Twitter and Facebook: @MahindraRise
Media contact information:
Mohan Nair
Vice President (Communications)
Mahindra & Mahindra Ltd.
Office Direct Line – + 91 22 28468510
Office Email Address – nair.mohan@mahindra.com
Other Key Releases
From solar lamps and water jugs and even prosthetic limbs, 3D printing has the potential to drive positive change in the lives of people everywhere. The Mahindra Group has now designed and implemented a pilot project to bring its benefits to semi-urban and rural India.
2016 has gone down in history as Mahindra Racing's most successful Moto3™ World Championship campaign to date. Goals were achieved and surpassed, causing the bar to constantly raise as the season progressed.
Mahindra partners with IBM to develop cloud-based Block Chain application, one of the first projects of its kind in India outside of traditional banking.