Mahindra
& Mahindra
Our flagship company is India's premier utility vehicle (UV) and farm equipment maker. We enjoy a truly global presence today, with our vehicles traversing roads, both paved and unpaved, in Australia, Europe, Latin America, large parts of Asia, and South Africa. "Mahindra" is the largest selling tractor brand, by volume, in the world. You will find our tractors cultivating dreams in all the continents on earth
---
Performance
Snapshot
The last decade has witnessed phenomenal growth in revenues, profits and geographical spread, laying the foundation for us to pursue our aspiration of making "Mahindra" a globally admired brand.

(Stock data is from the National Stock Exchange)
Financial KPIs




Our Global
Presence
Since assembling our first vehicle in 1947, we've grown rapidly. We commenced our exports in the 1960s, and today, you will find our vehicles and tractors in all six continents of the world.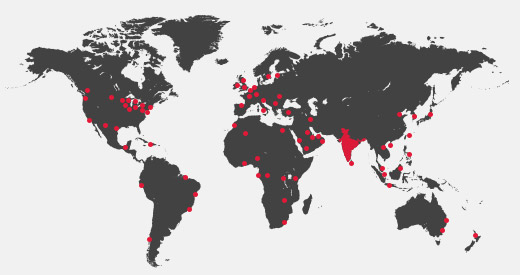 How
we win
We've been India's No.1 UV and Tractor maker for a long time now. And we intend replicating the India success story on the global stage. Here's how we aim to do it.
Quick Facts
Innovation and Technology will power us towards our aspiration of becoming a globally admired brand. Our facts below sync our performance to our promise.